Slicing Edge Sharpening System
Home
» Slicing Edge Sharpening System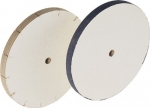 "Slicing Edge Sharpening System" formerly known as Charlies Wheel of Fortune.

These make putting an edge on a knife blade quick business - if you know what you're doing (see warning below). One wheel is a type of grinding wheel and the kit comes with grease to dress it and keep it cool during use. The other wheel is a hard buffing wheel and some buffing compound is also included.

Contains sharpening wheel and polishing wheel made to fit any 1/2" shaft bench grinder. The shaft hole is 5/8" in diameter. We recommend a tapered shaft for the motor end. Use these wheels to put a professional quality, razor sharp, burr-free edge on your cutlery. Each 8" x 3/4" wheel will sharpen 300-400 knives before requiring reconditioning. Includes one CW-2 Reconditioning Kit. Easy to use. Bench grinder not included.

Please note: It is very easy to "over-sharpen" a knife and ruin it or to have a blade caught and pulled from your hand. Please don't try these wheels if you don't feel confident holding a sharp object on a fast turning wheel. The KnifeCenter assumes no responsibility for damage done to your knives or self with this tool. Please use carefully and at your own risk.