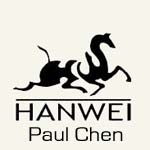 Paul Chen Samurai Swords

This section is dedicated to Paul Chen Samurai swords.

Hanwei is the name of the forge where Paul Chen creates all his swords. The Paul Chen brand is considered one of the largest selling brand of both decorative but also battle ready Samurai and Japanese swords in the world.

Paul Chen's Katanas are created with various high carbon steel. The forging techniques used in their creation is specifically designed to improve the strength of each swords. These swords are known to be almost impossible to break whether it is in competition or during cutting exercises.