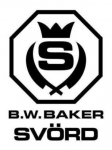 SVORD Knives are 100% NZ handcrafted from innovative designs by Bryan Baker, Master Cutler.


We use Swedish high carbon steel. (*2008, Now using Sandvik 12C27 stainfree high carbon on Chefs *) All SVORD Knives are guaranteed for life against breakage under normal use. Of course this does not cover intentional misuse or neglect. Any knife that has clearly been misused will not be replaced.

Guarantee does not cover rust. Carbon steel knives need to be kept clean and dry when not in use.

These are enthusiast knives for the chef or sportsman who areinterested in knives that stay sharp longer and are easily sharpened, unlike stainless steel knives.